Careers in Business – Virtual Expo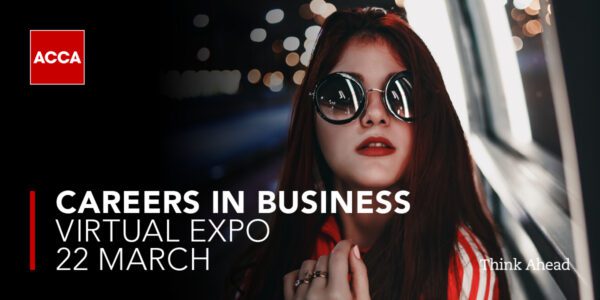 Wednesday 22 March | 8:00am-8:00pm
ACCA is excited to launch their very first early careers virtual exhibition, "Careers in Business", sponsored by Sage, bringing pupils aged 13 to 18 along with their parents, guardians and teachers together with employers and careers experts from across the UK to share knowledge on all areas of business.
Exhibitors include Sage, UCAS, Burberry, Azets, Your Game Plan, the NHS, the Ministry of Defense and many more.
Throughout the day, they will be hosting multiple live and interactive sessions covering topics such as:
understanding the roles available within the business including finance, marketing, HR and much more
the skills required to get started in different business areas and how to acquire them
employability sessions such as time management, leadership and application and interview workshops
informative sessions on training pathways including T Levels, apprenticeships and university
Attendees will have the opportunity to explore our partner organizations via their virtual expo booths as well as network with employers via video and chat functions on the event platform to find out more about their sectors and any early career opportunities available.
This event will be live and interactive on the 22nd of March but will be available on demand until Friday 21st April, for those who are unable to attend on the day to review sessions, content and exhibitor booths.