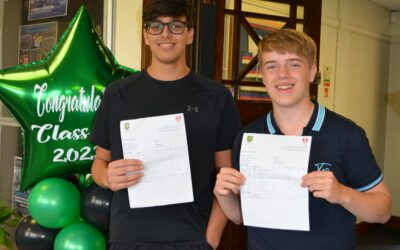 2023 has proved to be another successful year for GCSE students at Cowley International College with many achieving the results which will enable them to progress onto their chosen learning pathway.
There were many outstanding individual performances. Daisy Ward achieved seven grade 9s and two grade 8s, a student attained three grade 9s, five grade 8s and a grade 7, Sophie Avison collected two grade 9s, three grade 8s and a grade 7, while Julia Gostelow earned six grade 8s, a grade 7 and a grade 6, in an impressive sets of results.
There was wonderful success across the year group, with an overwhelming majority of students achieving their expected grades or better.
Many of our students are progressing to Cowley Sixth Form College, studying courses including Maths, Law, Physics, Chemistry and English.
Reflecting on the results, Principal, Russell Cormack, said: "I am extremely proud of this cohort and the academic and personal achievements that they have made, not just today but over the past five years. The academic aspirations we've seen from this year group has been outstanding.
"To be able to celebrate with students as they open that envelope to see the outcome of all their hard work is a real privilege.
"I'd like to thank staff and parents for the important role they have played in this success too in helping students achieve these fantastic results."
Cowley students have done themselves proud. Gatsby, our Therapy Dog joined in with the celebrations. He's really missed everyone over the summer!